Paul van Dijk, TWG & PEG Leaders
Paul van Dijk, Vice President Strategy and Innovation at LioniX International, co-founded SATRAX in 2010 and served as Chief Executive Officer (CEO) with responsibilities for supply chain management, business development and marketing of the integrated microwave photonics products.
Before joining SATRAX, he worked 11 years at ASML, Veldhoven, The Netherlands, where he was responsible for new business development and product marketing at the Special Applications and 300mm Business Units. Paul started at ASML in 1999 as product marketing manager for PAS 5500 Steppers combined with field marketing and new business development responsibility for the MEMS, compound semiconductor and photonics applications market. He initiated joint development programs with international universities and key players in the industry and contributed to the PHOTONICS 21 strategic research agenda.
Dr. van Dijk's expertise and experience is in material characterization with X-ray, e-beam and ion-beam analysis techniques such as PIXE, XRF, Elastic Recoil Detection Analysis (ERDA) and RBS combined with ion-channeling and fundamental understanding of ion-matter interaction and simulation. 
From 1997 to 1998 he worked at High Voltage Engineering Europa BV. in Amersfoort, the Netherlands, on design and qualification of Accelerometer Mass Spectrometry (AMS) systems for Carbon and Iodine-isotope analysis for dating applications. He installed the first prototype AMS machine for Iodine analysis at the Japanese Atomic Energy Research Institute (JAERI), Mutsu, Japan.
Dr. van Dijk holds an engineering degree and a Ph.D. in Physics from the Technical University Eindhoven (1997) in the field of materials science and materials characterization using high energy ion beam analysis techniques. He also holds a Master of Business Marketing (MBM) from TIAS Nimbas School where he graduated in 2002. Dr. van Dijk is co-author more than 36 scientific and peer-reviewed articles of and holds six patents.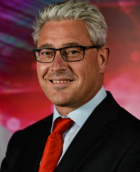 Co-Chair, Electronic-Photonic Assembly TWG