How to Get Involved
Companies, Universities & Research Institutes Interested in Integrated Photonics are Encouraged to Participate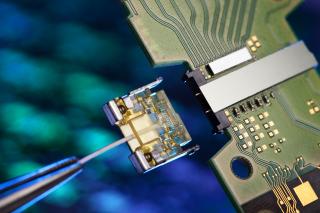 The IPSR-I is a living document that is continuously updated. The chapters need enrichment with technological, module and application developments in their respective fields. A call is always open for contributions by experts in the various technological and applicational fields to update the IPSR-I. The Integrated Photonic Systems Roadmap International (IPSR-I) invites all organizations, including universities, research institutes, SMEs, customers and the vertical supply chain to participate. 
Participation and attendance at all IPSR-I meetings is by invitation, but all stakeholders who are willing to devote time and effort to achieve the goals of IPSR-I are encouraged to participate.
There are two ways to participate:
1.     Join one of the working groups. List of WG's and WGL below.
2.     Attend IPSR-I workshops by registering on the IPSR-I website and requesting an invitation to the meeting
Working Groups

Topics

Co chair

Co chair

Co chair

Data/Tele IcT

Data Center/Telecom

Michael Robertson (Huawei)

Michael Lebby (Lightwave Logic)

 

Sensors

IoT & Industrial equipment

Christophe Py (CNRC)

Rich Grzybowski (Macom)

 

Automotive

 

 

 

Aerospace

Rolf Evenbleij (Technobis)

Amin Abassi (Antwerpspace)

David Mackey (MBryonics)

Healthcare

Thierry Robin (Thematys)

Anu Agarwal (MIT)

 

Photonic Modules

RF Photonics

Arthur Paolella (Harris)

Guillermo Carpintero (University of Valencia)

 

Integrated Photonic Sensors

Ben Miller (U of Rochester)

Anu Agarwal (MIT)

 

IPSR Cost Emulators

 

Randolph Kirchain (MIT)

 

Electronic Photonic Design Automation

Twan Korthorst (Synopsis / Phoenix)

Tom Daspit (Mentor)

 

Front-end

Monolithic Silicon Integration

Abdul Rahim / Roel Baets (ePixfab)

Lionel Kimerling (MIT)

Ajey Jacob

InP & III-V compounds

Mike Wale (TU/e)

Gloria Hoefler (Infinera)

 

SiN

Sami Musa (Vision & actions)

Lionel Kimerling (MIT)

 

Polymers

Felix Betschon (Vario optics)

Michael Lebby (Lightwave Logic)

 

Back-end

Packaging

Peter 'O Brien (Tyndall)

Bill Bottoms (3MTS)

 

Interconnects

Peter Maat (Astron)

Terry Smith

John MacWilliams

Assembly

Paul van Dijk (LioniX-International)

Yi Quan (MRSI Systems)

Dick Otte (Promex Industries)

Testing

Sylwester Latkowski (TU/e)

Dave Armstrong (Advantest)

Tom Brown (U of Rochester)